Five Ways to Use Product Management Best Practices
It's no understatement to say 2020 has been tough for everyone. As you move into the new year and focus on what can be controlled, you can help your product team prepare for success by exercising those product leadership muscles and implementing product management best practices. Here are our top tips for how you can lay the right foundations and get your product strategy off to a flying start.
1) Dust Off Your Product Vision
When was the last time you reviewed your product vision? Are you still aiming in the right direction? The product vision is the north star around which your product team aligns themselves. Just imagine the chaos that could ensue if you arrange to meet a group of friends without specifying a destination? Your vision is exactly that – it's the information everyone needs so they know where they're headed, and why.
If you find yourself needing any inspiration, why not try our product vision template, designed to help you ask yourself the important questions and create a vision that inspires your team.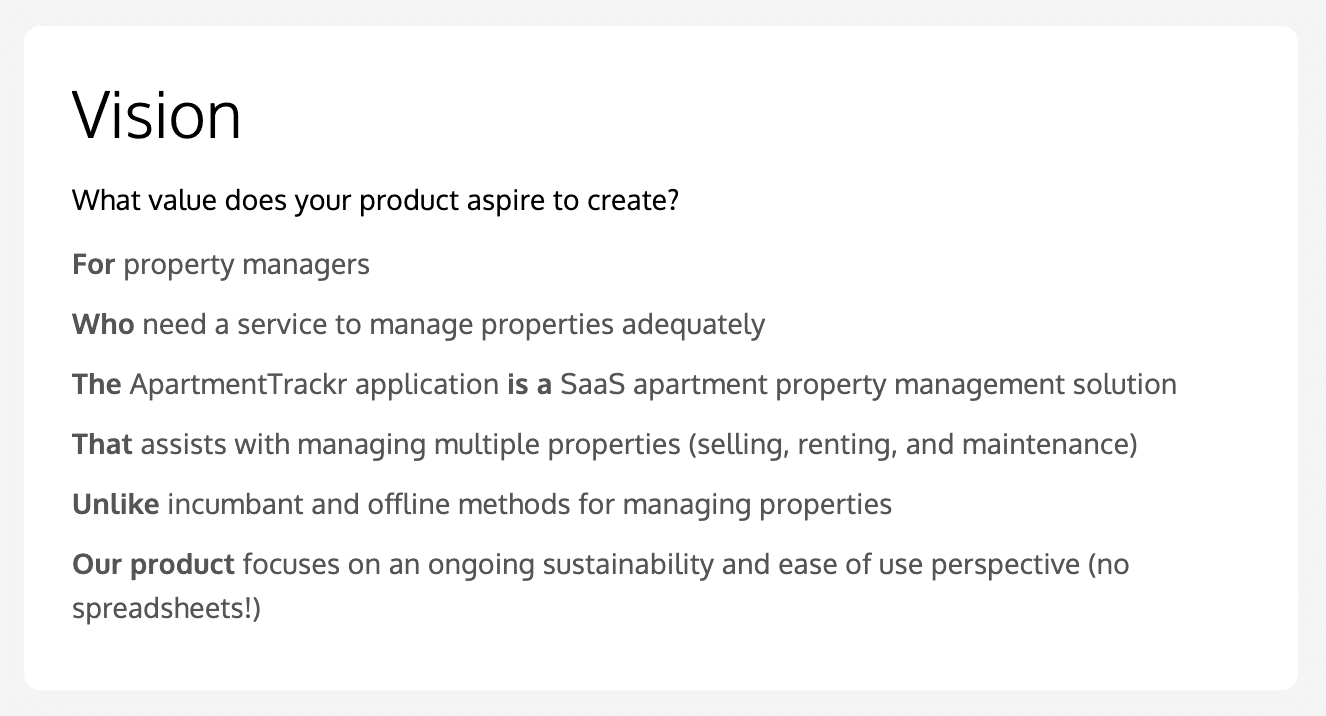 Don't forget, once you've defined your vision, you need to make sure everyone can see it. ProdPad's product and portfolio canvases helps you keep the vision front and center, right where everyone needs it. By aligning everyone around the long term goal, you'll reduce misunderstandings and help your team stay on track.
2) Define Your Objectives and Key Results
If your vision defines the destination, your objectives and key results (also known as OKRs) help you to set boundaries around how you'll get there.
It's product management best practice for objectives to be qualitative – what are you going to improve? Maybe it's adoption, usability, scalability or similar. Key results should be measurable – how will you know you've made improvements? What metrics can you check which will show you've made a positive impact?
Write up your OKRs and make sure they're documented somewhere everyone can see them. You'll find it much easier to see if what you're doing is actually working as you execute against your roadmap. If you need a bit more guidance on how to go about it, we've written about OKRs here. Not only that, ProdPad gives you a place to document your OKRs and tie them directly to the plans on your lean roadmap so they're always considered in your plans.
3) Get Your Product Strategy in Order
Vision and objectives are key to ensuring everyone is aligned around the destination and direction. Your strategy helps them know which steps to take along the way and is otherwise known as the product roadmap.
We've written extensively on this topic, and encourage the use of a lean roadmap to help stakeholders understand the problems you're hoping to solve in a way that's flexible and allows for innovation. Your roadmap should be a living, breathing document which provides transparency into the market problems you're solving. Allowing your teams to experiment to find the right solutions.
Customers love a problem-based roadmap. It gives credibility that they are being listened to and understood, and gives them the chance to provide feedback on ways those problems can be solved without upsetting your strategy.
So, take a little time to review your current roadmap. Does it focus on solving high priority problems? Do you have ideas on how you might solve them? Is it linked back to your objectives? Can it be flexible enough to allow you to pivot as needed? Is it easy for everyone to understand? Most importantly, does it give context around why you've focused on those problems? If you find yourself saying no to these questions, maybe it's time you moved to a lean roadmap – which we'd certainly advocate as product management best practice.
4) Empower Your Team
The chances are you're surrounded by a team of talented individuals who all have suggestions for how your product could be better. It's easy for your colleagues to become demotivated if they're not being listened to or are detached from the product process. It's also hard for product managers to define the right solutions if they don't evaluate all the options. This is where empowering your team can help.
By giving your colleagues a place to contribute to the product strategy, you're killing two birds with one stone. A centralized idea backlog (or "opportunity backlog" as Marty Cagan calls it) gives everyone the chance to contribute their thoughts and get visibility into where they sit in the ideation process.
Product managers benefit from the guidance that their team can provide, and can share the responsibility for decision making with those around them. By de-risking that decision process, hitting the market with the right solution is much more likely.
ProdPad's collaboration features allow you to exemplify product management best practice by allowing all of your internal stakeholders to be involved. Free Reviewer licenses mean you don't need to worry about how much that extra help will cost. Not only that, your discussions and decisions will be documented and easy to refer back to. Even your slack and email chats can be captured along the way, making it much easier to backtrack and remind yourself how you reached a conclusion.
5) Involve Your Customers
One of the earliest product management phrases I learned was "Nihito" – Nothing Important Happens In The Office. While we might need to update that to say "home office", the concept is still valid. It's product management best practice to look outside of your own organization to learn about your market and understand the problems you should be solving.
The best way to do this is by talking to your customers yourself, but you can also take advantage of the conversations your colleagues are having with their contacts, too. By bringing feedback into a single place, it's easier to spot themes and identify the kinds of problems that rear their heads on a repeated basis.
ProdPad's customer feedback tools and integration capabilities allow you to collect feedback from all the disparate places they're circulating. It then allows you to link them to the ideas you have in your backlog to help understand the most valuable ones. Not only that, you're able to engage your customers by involving them in testing the solutions they've asked for much earlier in the process, leading to better products and increased adoption rates.
Bringing Product Management Best Practices Together
We get it, product management is hard! Sometimes it helps to reset and give yourself confidence that you're working on the right things. These product management best practices, combined with ProdPad's unique structure, will help you bring together your thinking into something that's easy to share with the team.
Dust off your product vision
Define your objectives and key results
Get your product strategy in order
Empower your team
Involve your customers
Are you ready to take off? Start your free trial in ProdPad and get everyone ready for the journey ahead. 🚀
Sign up to our monthly newsletter, The Outcome.
You'll get all our exclusive tips, tricks and handy resources sent straight to your inbox.