Backlog
The backlog is a list of items your team may decide to work on. It is often recommended that you break this up into a list of potential opportunities (product backlog) and items which are already assessed and reviewed, ready to be worked on (the development backlog).
The two kinds of backlog have different purposes. One allows product managers to prioritize and spec out what they'd like to achieve before work items are pushed to development. The other is a to-do list which can be executed against.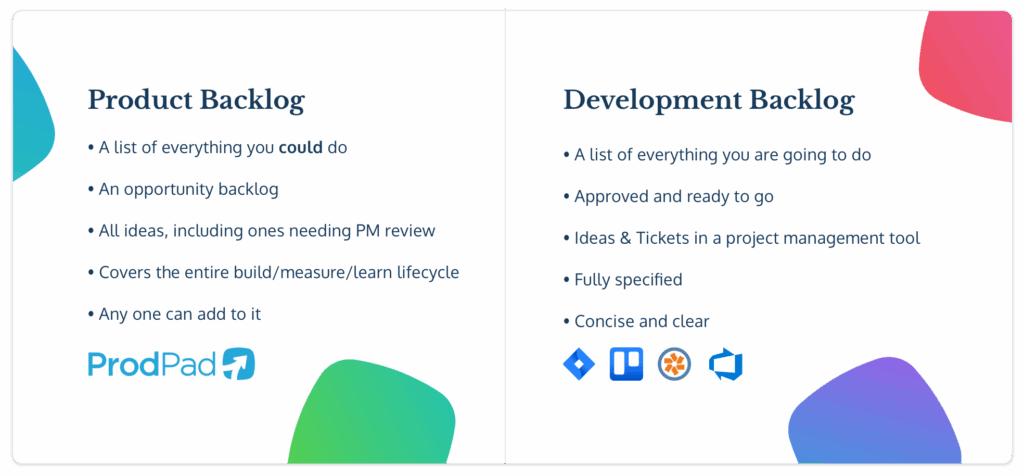 Product Backlog
This list is also referred to as the opportunity backlog or the idea backlog. It is managed by the product management team, as these items have to go through discovery before being executed. The product team will often ask the question "what problem are you trying to solve?" as they figure out possible solutions, and turn the ideas in the product backlog into specifications that can be delivered by the development team.
We do recommend you watch out for the term "feature backlog." This implies you are solely looking at new features to build, as opposed to looking at opportunities, experiments, and other potential improvements big or small.
Development Backlog
The development backlog is the list of items managed and delivered by the development team. This list will be made up of items from the product backlog already validated and spec'd out, as well bugs which are prioritized for the development team separately to strategic product changes.
Why do we need two backlogs?
It might seem counterintuitive, but having two backlogs makes a product team more efficient. They are able to focus discovery activities on the product backlog, and delivery on the development backlog, ensuring they have the right focus at the right time. This is a key concept in dual-track agile delivery.